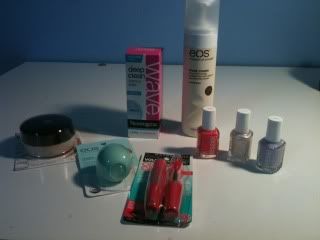 Welcome to my fabulous blog. It'll be quite the fiesta, I can tell already. This is my first post, and I thought why not make it a haul since everyone loves hauls, and I picked up a few things at Walgreens today! Let's dive right in, shall we?
First I got a box of refills for my Neutrogena Wave. How exciting. Sarcasm. I always thought reading sarcasm in text was really awkward. ..................ANYWAY.
They're the extra foaming kind, cause personally I think washing your face is more fun when it lathers up. haha. Strange child I am.
Right next to it is something ALMOST as exciting. SHAVE CREAMMMMMMM WOOOOO. Party in a bottle. Not that kind of party in a bottle, geez. Anyway its the EOS Shave Cream in Vanilla Bliss. i've had it before and I think the fact that I'm repurchasing says enough.
Then on the far left is the Covergirl Loose Powder in Translucent Fair. You guessed it the lightest color. Gotta love that Edward Cullen skin. AWESOME. But oh well, summers soon right? That means more money spent on darker products. Even more awesome. [Insert Sarcasm here] So I got this cause my friend Lindsey or Beautybaby44 on YouTube
http://www.youtube.com/beautybaby44
was RAVING this thing to death and said it was better than any powder and held makeup on long, etc. So I wanted to try it out brahhhh!
Next I got EOS (on a roll with those EOS products, huh Kristee?) Lip Balm in Sweet Mint. Hello, Sweet Mint! Who wouldnt want it? I loooove mint and it was a cute color and when I saw it, I was like, okay. Welcome to my life lipbalm.
The mascara in the middle is Maybelline One by One and if you watch beauty videos, which you probably do if youre reading this, its a craze on YouTube right now and everyones claiming to find their new holy grail mascara. Me being the mascara freak I am, of course I jumped on it!
Today I saw something amazing at Walgreens. ESSIE! MY FAVORITE NAIL POLISH BRAND! Omg, I'm so there. haha I think theyre new, but idk, I dont go to Walgreens that often, but I took advantage of it and snatched 3! Well, not snatched, I paid for them I promise. But I got Cute as a Button, which is a fun coral pink color, Imported Bubbly, which is a pale, shimmery, and GORGEOUS Champagne (go figure) color, and finally Lilacism, which is a soft pastel purple color which I'm gonna loove this spring!
SO, this concludes my blog haul. FOLLOWWWW MEEEEEE. Gotta love those crazy follower obsessed people (Cough cough ME). Hope you enjoyed my awkward text humor. Talk to you in my next post! <3